The 2019 Academy Awards are tonight on ABC (8 p.m. EST). Before the ceremony, check out which of this year's Oscar-nominated films are actually based on best-selling books!
Black Klansman: A Memoir
Written by Ron Stallworth, 2018
"When detective Ron Stallworth, the first black detective in the history of the Colorado Springs Police Department, comes across a classified ad in the local paper asking for all those interested in joining the Ku Klux Klan to contact a P.O. box, Detective Stallworth does his job and responds with interest, using his real name while posing as a white man. He figures he'll receive a few brochures in the mail, maybe even a magazine, and learn more about a growing terrorist threat in his community.
A few weeks later the office phone rings, and the caller asks Ron a question he thought he'd never have to answer, "Would you like to join our cause?" This is 1978, and the KKK is on the rise in the United States. Its Grand Wizard, David Duke, has made a name for himself, appearing on talk shows, and major magazine interviews preaching a "kinder" Klan that wants nothing more than to preserve a heritage, and to restore a nation to its former glory.
Ron answers the caller's question that night with a yes, launching what is surely one of the most audacious, and incredible undercover investigations in history. Ron recruits his partner Chuck to play the "white" Ron Stallworth, while Stallworth himself conducts all subsequent phone conversations. During the months-long investigation, Stallworth sabotages cross burnings, exposes white supremacists in the military, and even befriends David Duke himself.
Black Klansman is an amazing true story that reads like a crime thriller, and a searing portrait of a divided America and the extraordinary heroes who dare to fight back."
BlacKkKlansman (2018)
Directed by Spike Lee
Screenplay by Charlie Wachtel & David Rabinowitz and Kevin Willmott & Spike Lee
Starring: John David Washington, Adam Driver
Nominated for: Best Picture (Sean McKittrick, Jason Blum, Raymond Mansfield, Jordan Peele, Lee), Best Director (Lee), Best Adapted Screenplay (Watchel, Rabinowitz, Willmott, Lee), Actor in a Supporting Role (Driver), Film Editing (Barry Alexander Brown), Original Score (Terence Blanchard)
If Beale Street Could Talk
Written by James Baldwin, 1974
"In this honest and stunning novel, now a major motion picture directed by Barry Jenkins, James Baldwin has given America a moving story of love in the face of injustice.
Told through the eyes of Tish, a nineteen-year-old girl, in love with Fonny, a young sculptor who is the father of her child, Baldwin's story mixes the sweet and the sad. Tish and Fonny have pledged to get married, but Fonny is falsely accused of a terrible crime and imprisoned. Their families set out to clear his name, and as they face an uncertain future, the young lovers experience a kaleidoscope of emotions–affection, despair, and hope. In a love story that evokes the blues, where passion and sadness are inevitably intertwined, Baldwin has created two characters so alive and profoundly realized that they are unforgettably ingrained in the American psyche."
If Beale Street Could Talk (2018)
Directed by Barry Jenkins
Screenplay by Barry Jenkins
Starring: KiKi Layne, Stephen James, Regina King
Nominated for: Actress in a Supporting Role (King), Original Score (Nicholas Britell), Best Adapted Screenplay (Jenkins)
Can You Ever Forgive Me? Memoirs of a Literary Forger
Written by Lee Israel, 2008
"Before turning to her life of crime—running a one-woman forgery business out of a phone booth in a Greenwich Village bar and even dodging the FBI—Lee Israel had a legitimate career as an author of biographies. Her first book on Tallulah Bankhead was a New York Times bestseller, and her second, on the late journalist and reporter Dorothy Kilgallen, made a splash in the headlines.


But by 1990, almost broke and desperate to hang onto her Upper West Side studio, Lee made a bold and irreversible career change: inspired by a letter she'd received once from Katharine Hepburn, and armed with her considerable skills as a researcher and celebrity biographer, she began to forge letters in the voices of literary greats. Between 1990 and 1991, she wrote more than three hundred letters in the voices of, among others, Dorothy Parker, Louise Brooks, Edna Ferber, Lillian Hellman, and Noel Coward—and sold the forgeries to memorabilia and autograph dealers."

Can You Ever Forgive Me? (2018)
Directed by Marielle Heller
Screenplay by Nicole Holofcener and Jeff Whitty
Starring: Melissa McCarthy, Richard E. Grant
Nominated for: Actress in a Leading Role (McCarthy), Actor in a Supporting Role (Grant), Best Adapted Screenplay (Holofcener, Whitty)
The Wife, A Novel
Written by Meg Wolitzer, 2003
"The Wife is the story of the long and stormy marriage between a world-famous novelist, Joe Castleman, and his wife Joan, and the secret they've kept for decades. The novel opens just as Joe is about to receive a prestigious international award, The Helsinki Prize, to
honor his career as one of America's preeminent novelists. Joan, who has spent forty years subjugating her own literary talents to fan the flames of his career, finally decides to stop.
Important and ambitious, The Wife is a sharp-eyed and compulsively readable story about a woman forced to confront the sacrifices she's made in order to achieve the life she thought she wanted. "A rollicking, perfectly pitched triumph…Wolitzer's talent for comedy of manners reaches a heady high" (Los Angeles Times), in this wise and candid look at the choices all men and women make—in marriage, work, and life."
The Wife (2018)
Directed by Björn L. Runge
Screenplay by Jane Anderson
Starring: Glenn Close, Jonathan Pryce, Max Irons
Nominated for: Actress in a Leading Role (Close)
Queen of Scots: The True Life of Mary Stuart
Written by John A. Guy, 2004
"In Mary Queen of Scots, John Guy creates an intimate and absorbing portrait of one of
history's most famous women, depicting her world and her place in the sweep of history with stunning immediacy. Bringing together all surviving documents and uncovering a trove of new sources for the first time, Guy dispels the popular image of Mary Stuart as a romantic leading lady—achieving her ends through feminine wiles—and establishes her as the intellectual and political equal of Elizabeth I.
Through Guy's pioneering research and superbly readable prose, we come to see Mary as a skillful diplomat, maneuvering ingeniously among a dizzying array of factions that sought to control or dethrone her. It is an enthralling, myth-shattering look at a complex woman and ruler and her time."
Mary Queen of Scots (2018)
Directed by Josie Rourke
Screenplay by Beau Williams
Starring: Saoirse Ronan, Margot Robbie
Nominated for: Costume Design (Alexandra Byrne), Makeup and Hairstyling (Jenny Shircore, Marc Pilcher, Jessica Brooks)
First Man: The Life of Neil A. Armstrong
Written by James R. Hansen, 2005
"When Apollo 11 touched down on the Moon's surface in 1969, the first man on the Moon became a legend. In First Man, author James R. Hansen explores the life of Neil Armstrong. Based on over fifty hours of interviews with the intensely private Armstrong, who also gave Hansen exclusive access to private documents and family sources, this "magnificent panorama of the second half of the American twentieth century" (Publishers Weekly, starred review) is an unparalleled biography of an American icon.
I
n this "compelling and nuanced portrait" (Chicago Tribune) filled with revelations, Hansen vividly recreates Armstrong's career in flying, from his seventy-eight combat missions as a naval aviator flying over North Korea to his formative trans-atmospheric flights in the rocket-powered X-15 to his piloting Gemini VIII to the first-ever docking in space. For a pilot who cared more about flying to the Moon than he did about walking on it, Hansen asserts, Armstrong's storied vocation exacted a dear personal toll, paid in kind by his wife and children. For the near-fifty years since the Moon landing, rumors have swirled around Armstrong concerning his dreams of space travel, his religious beliefs, and his private life.
A penetrating exploration of American hero worship, Hansen addresses the complex legacy of the First Man, as an astronaut and as an individual."
First Man (2018)
Directed by Damien Chazelle
Screenplay by Josh Singer
Starring: Ryan Gosling, Claire Foy
Nominated for: Production Design (Nathan Crowley (Production Design); Kathy Lucas (Set Decoration)), Sound Editing (Ai-Ling Lee, Mildred Iatrou Morgan), Sound Mixing (John Taylor, Frank A. Montaño, Lee, and Mary H. Ellis), Visual Effects (Paul Lambert, Ian Hunter, Tristan Myles, J.D. Schwalm)
Mary Poppins
Written by Dr. P. L. Travers and illustrated by Mary Shepherd, 1943-1988
"Who can slide up banisters, banish naughtiness with a swift "Spit-spot," and turn a make-believe sidewalk drawing into a lovely day in the park? Mary Poppins, of course! From the moment the beloved nanny arrives at Number Seventeen Cherry-Tree Lane, everyday life for the Banks family is full of excitement."
Series includes Mary Poppins, Mary Poppins Comes Back, Mary Poppins Opens the Door, Mary Poppins in the Park, Mary Poppins from A to Z, Mary Poppins in the Kitchen, Mary Poppins in Cherry Tree Lane, and Mary Poppins and the House Next Door.
Mary Poppins Returns (2018)
Directed by Rob Marshall
Screenplay by David Magee
Screen Story by Magee, Marshall, and John DeLuca
Starring Emily Blunt, Lin-Manuel Miranda
Nominated for: Original Song ("The Place Where Lost Things Go" music by Marc Shaiman; lyric by Scott Wittman and Shaiman), Costume Design (Sandy Powell), Production Design (John Myhre (Production Design); Gordon Sim (Set Decoration))
Ready Player One
Written by Ernest Cline, 2011
"At once wildly original and stuffed with irresistible nostalgia, READY PLAYER ONE is a spectacularly genre-busting, ambitious, and charming debut—part quest novel, part love story, and part virtual space opera set in a universe where spell-slinging mages battle giant Japanese robots, entire planets are inspired by Blade Runner, and flying DeLoreans achieve light speed.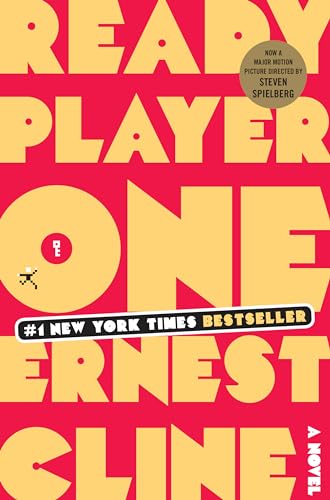 In the year 2045, reality is an ugly place. The only time teenage Wade Watts really feels alive is when he's jacked into the virtual utopia known as the OASIS. Wade's devoted his life to studying the puzzles hidden within this world's digital confines—puzzles that are based on their creator's obsession with the pop culture of decades past and that promise massive power and fortune to whoever can unlock them.
But when Wade stumbles upon the first clue, he finds himself beset by players willing to kill to take this ultimate prize. The race is on, and if Wade's going to survive, he'll have to win—and confront the real world he's always been so desperate to escape."
Ready Player One (2018)
Directed by Steven Spielberg
Screenplay by Zak Penn, Ernest Cline
Starring: Tye Sheridan, Olivia Cooke
Nominated for: Visual Effects (Roger Guyett, Grady Cofer, Matthew E. Butler, David Shirk)